Family History in the Classroom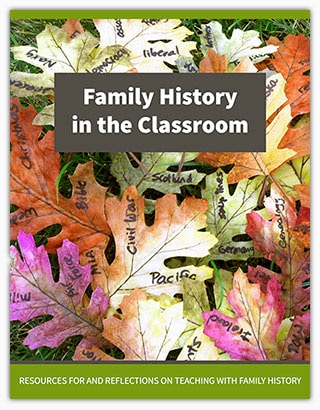 LEARN NC and Ancestry Education recruited a team of educators to explore family history in their classrooms using the Ancestry, Newspapers.com, and Fold3 databases. These educators reflect on their experience and provide resources for other educators to create their own family history classroom experiences in this enhanced digital textbook which features video, images, interactive presentations, and downloadable handouts.
Download materials
*Please note: To open the iBook version of this enhanced digital textbook, you will need to download the Apple iBooks software.
Guides
Check out the
Free Research Guides
on Ancestry.
Interesting Topics on Newspapers.com
Find topics like
war, social issues, famous people and more
all sourced from newspaper articles found through history.
Documents
Interviewing a family member? — Here are a list of questions that will assist in the process.


In 2014, on behalf of Ancestry.com, the H.W. Odum Institute for Research in Social Science at the University of North Carolina—Chapel Hill undertook an exploratory study of whether involvement in family history research is correlated with being active in one's local community. Through a matched samples design, we explored whether persons engaged in family history research perform more volunteer work, are more active in voting and/or public affairs, belong to more civic or veterans organizations, or contribute more to charitable causes than those not engaged in family history research. In this preliminary study, being involved in family history research is positively correlated with all of these behaviors.
Download Family History Research and Community Involvement by Odum Institute for Research in Social Science at the University of North Carolina
Charts and forms
Printable PDFs
of our most popular charts/forms - in particular the Ancestral Chart and Family Group sheet should be very valuable to keeping track of your family members. There are also blank census charts for each year that you are able to print out and study.